waste management designed
for the facilities management sector
The Select waste management solution benefits facilities management companies because of the unrivalled service, quality management and attention to details. No matter what requirements your clients have, Select can offer part or total waste management solution that can be tailored or even branded to your and your clients needs.
Being a UKAS ISO 9001 accredited company; this ensures that quality of service and traceability of communications, documents and waste transfers are never compromised. Through our UKAS ISO 14001, we continuously strive to be a more sustainable business through the operations we carry out and the products we purchase. Regarding Health & Safety, our UKAS OHSAS 18001 accreditation guarantees that all risk assessments and training is in place, reducing the risk to our staff or clients.
By working in partnership we know we can give you a better waste management experience with added peace-of-mind that no other service provider can offer.
facilities management core services: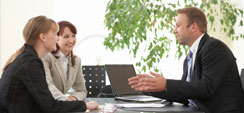 Our dedicated account managers and customer service team ensure all aspects of your contract are dealt with quickly and correctly.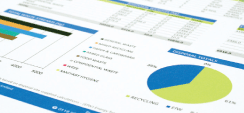 Want to know how well your organisation is performing? Existing customers can sign-up to our environmental waste impact reports to see exactly how much waste you are recycling!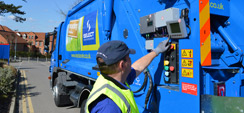 If you want your business to have accurate recycling statistics and increase savings based on the amount of waste you produce, then try our industry leading Pay-by-Weight solution.
---
unbeatable account management
Our dedicated account managers' work with you from the very beginning to ensure that the transition to Select and our service operates smoothly. Continued management of your account will ensure that your recycling potentials are maximised by ensuring waste is being segregated correctly. Educational posters and literature are available from Select and can be altered to meet you specific needs. All this dedication will ensure that both your clients environmental impact and waste management costs stay low.
Once you have witnessed the first-class solution provided by Select, we would like to offer you more waste management services with the same outstanding performance.
enhance your waste services
Each of our services can be enhanced with our powerful waste collection data. Through our Certified Pay-by-Weight system, we can accurately record everything about the waste collected, including: location, time, date, waste type and weight. Using this data we can create a monthly or annual environmental impact report that includes recycling rate and diversion from landfill rate. This has proven to be a very powerful tool that makes a great impression when placed in-front of your client.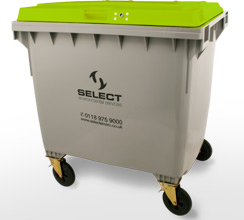 Green lid 1100L container
h:1295mm x w:1260mm x d:1120mm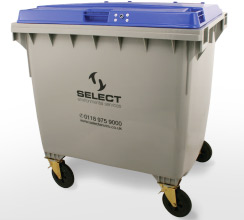 h:1295mm x w:1260mm x d:1120mm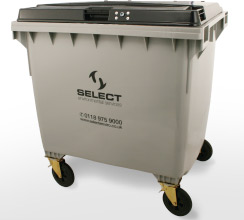 Black lid 1100L container
h:1295mm x w:1260mm x d:1120mm
containers
Select understands that each client has a unique requirement for the containment, collection and licensed disposal of their waste. As part of the reliability and quality of our collection services, Select provide the highest standard of waste containers that are fully compliant and colour-coded to meet all government waste legislation. For general waste and recyclables our external container range includes wheeled containers such as the 1100 litre, through to large skips, RELs, Roll On/Off containers and compactors. To complement the range of external containers we can also provide you with internal recycling stations that educate and make waste sorting easier and specialist secure containers for confidential waste. The flexibility of size and type of containers allows us to offer a tailored waste collection service suitable to the waste volume and space on-site.
To discuss your waste solution please call Select on 0118 975 9000