food recycling
If your business produces a lot of food waste and want to reduce your waste disposal costs, our food waste recycling service ticks all the right boxes.
Select Environmental Services provide food waste recycling to business across Berkshire, Hampshire, Oxfordshire, Surrey and London. Food waste is a very dense heavy waste that will increase the cost of your general waste disposal. By removing the food waste and recycling it your can save money and become a more environmentally friendly organisation. For companies that produce ABP waste, recycling food waste is required by legislation.
food waste collection service
For food waste collection we provide scheduled collections for naked and packaged food waste. The food waste collection service is provided as a frequent service, however we can provide one-off collections for bulk quantities of food waste.
All food waste collected by Select is disposed via Anaerobic Digestion (AD). AD recycles food waste and the methane produced is turned into a bio-gas that produces electricity to power homes and businesses. The end product from the food waste disposal is natural fertiliser that is rich in nutrients. There is no better, greener method to food waste disposal then Anaerobic Digestion.
popular containers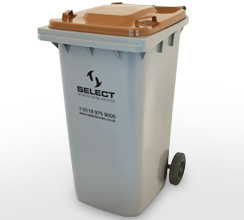 h:1060mm x w:580mm x d:720mm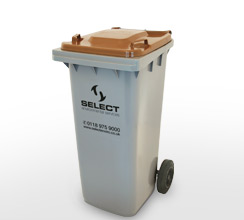 h:920mm x w:490mm x d:540mm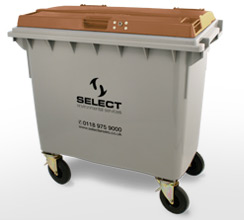 h:1215mm x w:1260mm x d:784mm
food waste recycling containers
240 litre recycling containers are provided for the segregation of food waste lined with a food bio-bag to help keep the container clean and reduce odours. Should the food waste containers require cleaning then we would simply exchange the container to minimise disruption to you and the service we provide.
recycle food waste
Restaurants, Supermarkets and food production companies are all starting to recycle food waste in order to reduce waste disposal costs, increase recycling statistics and comply with legislation. By getting Select to recycle food waste you will be doing exactly that. There is no better choice for food waste management.
Why should you recycle food?
Methane from food waste is 22 times more damaging to the environment than CO2.
The recycling process is even better than CO2 neutral, as it generates renewable energy.
Be one step further towards 'Zero Waste to Landfill'.
Your general waste containers will be cleaner and lighter, therefore recycling your general waste is easier and cheaper.
To discuss your waste solution please call Select on 0118 975 9000