hazardous waste disposal
Providing a hazardous waste collection service with minimal risk to our clients in Reading, Newbury, Oxford, Abingdon and Basingstoke with disposal that is kind to the environment.
The collection and disposal of hazardous waste requires a specialist waste management company with all the licensing, training and experience to provide a safe and environmentally friendly solution. Select not only have this in place, we have our very own fully qualified DGSA (Dangerous Goods Safety Advisor) to help manage the whole process from enquiry through to disposal.
Hazardous waste disposal Berkshire, Hampshire and Oxford
Our hazardous waste collection service is run from our facility based in Reading, Berkshire. Hazardous waste collections are typically an on-demand service carried out after a full audit and list of wastes have been identified. Once all the relevant hazardous waste transfer notes and risk assessments have been completed, Select will carry out the waste collection at a convenient and safe time for your business.
The hazardous waste collection service is not just for high-grade hazardous waste; it is also for everyday items that cannot be disposed of with general waste such as toner and ink cartridges, fluorescent tubes, batteries, aerosols and cleaning materials. Whatever type of hazardous waste you have, it is our job to ensure that the waste your wish us to collect is contained safely and labeled correctly for collection.
When disposing of hazardous waste, our approach is more environmentally conscious than traditional methods. Our priority is to recycle or utilise the recovery process rather than opt straight for incineration or landfill.

popular containers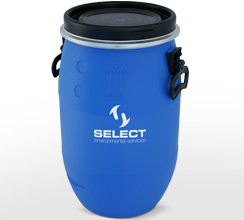 h:520mm x w:330mm x d:330mm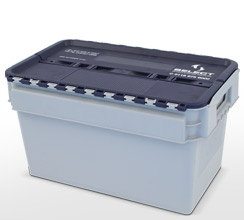 h:370mm x w:600mm x d:400mm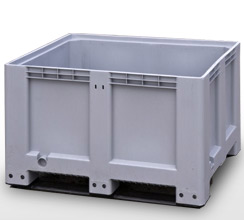 h:760mm x w:1200mm x d:1000mm
hazardous waste containers
All of our hazardous chemical and waste containers are of the highest specification (UN-type approved), helping to reduce the risk of spillages and contamination during hazardous waste collection.

In addition to UN-type approved kegs and drums, we can also supply larger on-site storage solutions for all types of hazardous waste collection. Select Environmental Services can also provide spillage kits, drum bunds and a whole range of related health & safety products to keep your organisation legally compliant.
To discuss your waste solution please call Select on 0118 975 9000