document shredding
Our document shredding service has the latest high-specification shredding equipment, trade-approved security rated containers and DBS checked operatives; giving you the highest level of security for your business.
Under the Data Protection Act 1998, organisations have a legal obligation to securely manage the storage, distribution and disposal of documents and data that contains personal information. Unlike our competitors our transparent document shredding services are not time-dependent. Instead, we use trade-approved weighing technology to ensure that you are only ever charged for the exact amount of material that has been shredded and recycled. Once the shredding process is completed, your are provided with a validated Certificate of Destruction. For companies seeking a higher level of security shredding, we also offer on-site shredding and witness destruction service.
Once the document shredding process is completed, the shredded material bailed at our facility in Reading, Berkshire ready for recycling. By choosing Select as your document shredding contractor all of your confidential will be 100% recycled.
document shredding collection service
Our CRB checked operatives provide secure collections at scheduled times or on request. A choice of one-trip document shredding sacks and lockable storage consoles / containers that keep confidential information secure from the moment it is discarded are available. Once the waste is collected our specialist shredding equipment will shred up to 1,200kgs of material per hour making sure that your documents are shredded the very day they are collected.
popular containers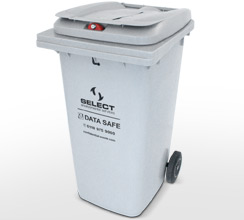 h:1070mm x w:580mm x d:720mm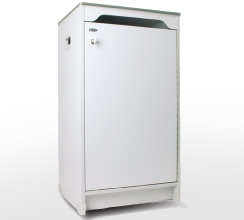 h:880mm x w:490mm x d:430mm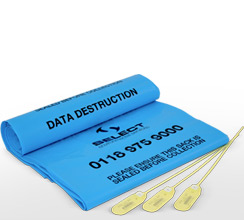 Confidential waste sacks & ties
Supplied in boxes of 100.
document shredding containers
A flexible choice of containers are available to suit your working environment. From small under the desk 60L containers to large 4 wheeled 660L containers all secured with a locking mechanism to keep your waste confidential. Our small 60L container and executive data console are both sack holding containers for purchase. To service these containers we simply visit your premises and collect the tied sacks for shredding. As an alternative we offer 140L, 240L and 660L containers where all documents are thrown loose into the secure container and when full, we exchange the container for an empty one. At no point do the documents leave the sack or container until the they are emptied into the shredder.
secure sacks & ties
For businesses that do not wish to purchase or lease containers, we can supply you with a box of confidential sacks with secure ties. The sacks are opaque and made of a heavy-duty polyurethane material which eliminates the ability to view documents through the sack or for the sack to be easily spit. When the sacks are full and securely tied collections can be arrange at a frequency that suits your business.
To discuss your waste solution please call Select on 0118 975 9000