waste management designed
for the commercial sector
Businesses producing commercial waste have a Duty of care to consider alternatives to disposal of their waste - e.g. recycling. This waste must also be stored safely and securely, collected by a licensed waste carrier and receive a waste transfer note for each load collected.
It is easy to find a waste management company that will give you one general waste container to throw all of your waste into a single container at a cheap price, but that's not going to make you a sustainable business. With the 2011 Waste Regulation now in place it is the responsibility of all organisations to follow the waste hierarchy (Reduce, Reuse, Recycle, Recover and Disposal). From a waste management point of view, recycling is best practice. In addition many companies aspire to achieve and maintain UKAS ISO 14001 accreditation. Our solutions are a great way to do this.
Select provide service solutions to suit all commercial businesses, including: solicitors and accountants. Accountants and solicitors create a great deal of confidential waste therefore we always recommend our document shredding service in-addition to our general waste and dry mixed recycling service. Below is an example of the core services we would pair up for an accountant or solicitor:
an accountants or solicitors core services: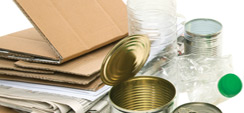 All plastic bottles, clean food tins, drink cans, paper and small cardboard packaging can all be recycled together.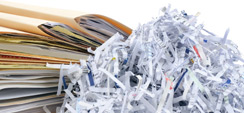 With the creation of confidential documents and data stored on computers, you will require regular secure data destruction services.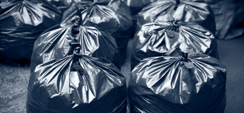 No matter how good your intentions are, there is always going to be some residual general waste.
---
container solutions
As part of the reliability and quality of our collection services, Select provide the highest standard of waste containers that are fully compliant and colour-coded to meet all government waste legislation. For general waste and recyclables our external container range includes wheeled containers such as the 1100 litre, through to large skips, RELs and Roll On/Off containers. To complement the external containers we can also provide you with internal recycling stations that educate and make waste sorting easier. For confidential waste we provide a range of secure and lockable internal containers.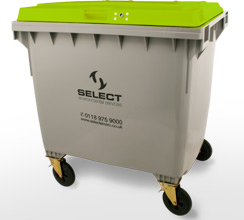 Green lid 1100L container
h:1295mm x w:1260mm x d:1120mm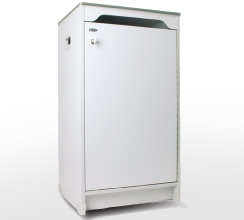 h:880mm x w:490mm x d:430mm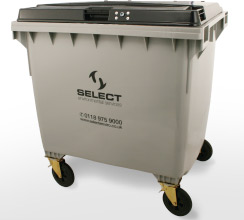 Black lid 1100L container
h:1295mm x w:1260mm x d:1120mm
unbeatable account management
Our dedicated account managers' work with you from the very beginning to ensure that the transition to Select and our service operates smoothly. Continued management of your account will ensure that your business is maximising recycling potentials and ensure waste is being segregated correctly. Educational posters and literature are available from Select and can be altered to meet you specific needs.
Once you have witnessed the first-class solution provided by Select, we would like to offer you more waste management services with the same outstanding performance. Services include: washroom hygiene, sharps disposal, hazardous waste disposal, food recycling and other recycling services.
enhance your waste services
Each of our services can be enhanced with our powerful waste collection data. Through our Certified Pay-by-Weight system, we can accurately record everything about the collection of your waste, including: location, time, date, waste type and weight. Using this data we can create for your business a monthly or annual environmental impact reports that include your recycling rate and diversion from landfill rate.
To discuss your waste solution please call Select on 0118 975 9000