batteries, fluorescent tubes and toners
For common consumables, Select can provide the right container and collection service to suit your business requirements.
battery recycling
In an age where nearly everyone has a mobile phone, portable computer or camera, large quantities of waste/used batteries and rechargeable power cells are generated within every business and must be recycled.
The Hazardous Waste Regulations 2005 designate all batteries are hazardous waste and must be recycled by a registered waste carrier. Batteries must not be disposed of in general waste for landfill and should be contained and collected as hazardous waste for recycling. The regulations clearly state that it is your responsibility as a producer of waste lead acid batteries to dispose of batteries according to the stringent rules set out by The Environment Agency. At Select Environmental Services we can ensure the requirements of this legislation are met and make sure that your responsibilities are covered with our used battery boxes and collection service.
Select can provide a battery recycling solution for your organisation. Whether you are in the automotive sector where predominantly you will produce lead acid batteries, or you are simply looking to recycle UPS units, laptop or disposable batteries, we can help. Large volumes of batteries and UPS units can be collected on pallets or in pallet boxes. All battery recycling collections come with a printed Hazardous Waste Consignment Note for your records.
fluourescent tubes and lamp recycling
Fluorescent tubes and lamps are not only considered hazardous to handle they are also classified as hazardous waste and that means specialised transportation and disposal via recycling is required.
Select offers a complete solution for the recycling of spent fluorescent tubes and lamps. Our range of storage containers have been carefully selected with health & safety in mind and provide the best protection to our personnel, and our clients. This service is available on a scheduled or ad hoc collection frequency.
toner cartridge recycling
A hassle-free used toner cartridge exchange service, which includes: UN-type approved containers, collection and recycling. Toner cartridges can no longer be sent to landfill and legislation now enforces businesses to recycle any used/empty toner cartridges. At Select, we can provide your business with a suitable container for storing all your used/empty toner cartridges. Once this container is full we can simply exchange this container with an empty one.
popular containers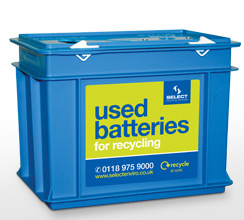 h:234mm x w:300mm x d:205mm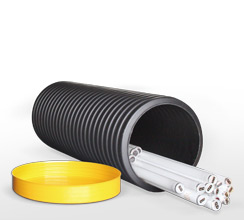 Fluorescent tube container
Diameter: 360mm. Available in 3 heights: 120mmm, 1830mm or 2440mm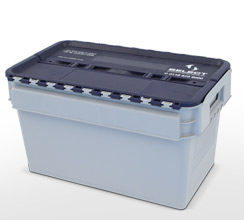 h:280mm x w:490mm x d:300mm
To discuss your waste solution please call Select on 0118 975 9000