Commercial Skip Hire
Reading
Select provide a skip hire solution for all commercial construction waste, bulky office furniture, packaging and other waste materials. Our containers range from standard open skips to large roll on/off containers. Each type has an enclosed lockable option to secure your waste on-site.
Based in Reading, skip hire is available as a One-off, Exchange or permanently sited service. All Waste collected is disposed of at a licensed Materials Recovery Facility which separates reusable waste streams such as hardcore, soil, wood, plasterboard and metal for recycling.
Construction Waste
For the management and recycling of construction waste, Select provide competitively priced skip hire and roll on/off containers that comply with your construction waste management plan. In addition, extra cost savings can be gained by providing more containers for the segregation of materials such as hardcore, wood, ferrous metal, aluminium, glass, plasterboard and asbestos.
Once the waste has been disposed of, we can provide reports detailing the weight of the each waste stream and the percentage recycled. For more information on our construction waste management solution please contact our sales team on 0118 975 9000.
Bulk Waste (Pallets, Packaging, Food)
Health & Safety is a continual and growing concern within all businesses. The lifting and storage of heavy/bulk waste pose a significant risk to personnel and property. You can reduce the risk by using our skip hire services to remove the waste and subsequently the risk. From secure containers for bulk waste to site clearance of packaging and wooden pallets, we can provide a waste management solution that suits your specific requirements.
Office Clearance
Select provide open and enclosed containers (Skips, REL and Roll On/off) in capacities of between 4.6 and 26.8 cubic metres for the storage and disposal of office furniture. All waste is sorted off-site at a recycling facility to maximise your recycling rates. In addition to skip hire, Select also offer a clearance service, where a two man team will attend your site, lift, load and sweep up all the waste required.
Plasterboard Recycling
Plasterboard (also known as gypsum) must be segregated for recycling. With the recent and forthcoming amendments to the waste management legislation, the disposal cost of plasterboard (gypsum) by landfill is now prohibited. Plasterboard must now be segregated for recycling. At Select Environmental Services, we provide significant cost savings when recycling your segregated plasterboard (gypsum) due to our waste management licence specification.
For the containment of unwanted/waste plasterboard, we can provide a range of skips and roll on/off. For small quantities we can also provide heavy duty 1 tonne bags or sheet collection combined with another service.
popular containers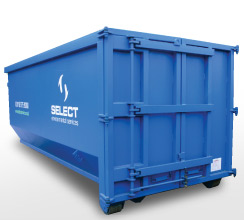 Available in 15.3m or 26.8m capacity.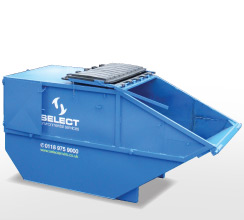 Available in 7.6m or 10.7m capacity.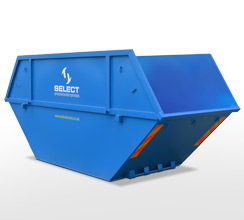 Available in 10.7, 6.1 or 4.6m capacity.
construction waste containers
For dense materials we have a range of skips and rolonof containers available in sizes of 4.6 (6 cubic yards) and 15.3 (20 cubic yards) cubic metres. For lighter more bulky materials, we offer 9.2 (12 cubic yards) and 26.8 (35 cubic yards) cubic metre containers which can provide better value. Discounted rates can be achieved by segregating your construction waste on-site using a separate skip or rolonof. Scheduled or as required collections are available.
To discuss your waste solution please call Select on 0118 975 9000