mixed glass recycling
Glass is an expensive waste material to dispose of by landfill due to the density and weight. By removing glass from your general waste for recycling, you can save money and reduce your environmental impact.
Most glass recycling services require the separation of glass colours, but with our innovative service we can collect mixed glass as the sorting of glass colours is carried out at a materials recycling facility. Our glass recycling service delivers impressive results and will save you money the more glass you remove from your general waste for landfill. As landfill tax rises you will continue to save more money year-on-year.
glass recycling collection service
Our mixed glass recycling solution is a contracted, scheduled service where we can collect your glass on a daily, weekly or fortnightly basis. Should the quantity of your recyclables increase, you can either request additional containers or increase the collection frequency. For larger quantities of glass requiring a bottle bank we can service these as an on-demand collection. All documentation, waste transfer notes and duty of care are included within your service level agreement; complying with the Waste Regulations 2011 (England and Wales). For companies seeking statistics for their recycling, we recommend taking advantage of our environmental reports and pay-by-weight options.
popular containers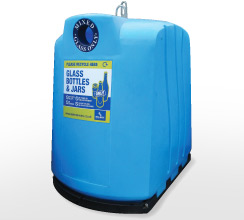 1 tonne / 2,400 bottles / 2500L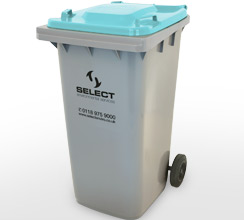 h:1060mm x w:580mm x d:720mm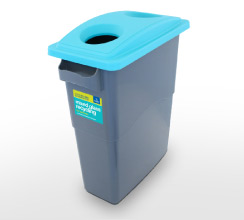 h:690mm x w:290mm x d:600mm
glass recycling containers
For the containment of mixed glass we can provide your organisation with internal and external containers. Our slim line 60 litre internal glass container has a colour-coded lid with glass bottle insertion holes and also forms part of our bespoke internal recycling station.
Our scheduled collection 240 litre container has a clever glass bottle insertion point in the lid to prevent fragments of glass escaping on impact. The containers can be stored internally or externally with easy maneuverability.
For large quantities of mixed glass bottles, most companies benefit from a one tonne glass bottle bank positioned on-site and collected on-request when full. The mixed glass bottle bank is exchanged on collection, allowing you to continue recycling your glass with no inconvenience. When you have a significant volume of glass (any kind of glass) for recycling, we can provide an enclosed roll on/off, enclosed skip or REL container.
To discuss your waste solution please call Select on 0118 975 9000