clincal waste
Select offer a complete waste management solution for identifying, handling and disposal of all types of clinical waste from any source.
Clinical waste is managed and categorised into several different European waste codes, depending upon the source of generation and known hazardous properties. For example a residential care home will produce a different type of clinical waste to a doctor's surgery, and therefore require different types of clinical waste disposal equipment. Within a dedicated clinical waste transfer facility, Select can transfer of all types of medical waste including waste in yellow, orange and tiger sacks; sharps and pharmaceutical waste for a complete clinical waste.
If you are looking for a new clinical waste management solution, you won't find a better service provider than Select. Here are a few reasons why companies choose us:
Clinical waste collections and deliveries scheduled to suit the needs of your practice.
Pay only for the waste you produce.
Invoices issued in arrears – nothing to pay up-front.
Simple, clear invoicing detailing the waste collected.
Competitive and transparent charging - no hidden extras or sudden increases.
Comprehensive range of the highest quality UN type approved containers.
clinical waste collection service
Select are well equipped and experienced to provide first-class, legally compliant clinical waste management. Providing a fully integrated service that is managed completely in-house providing high levels of compliance and contingency from collection through to disposal. All waste collected is recorded with our state-of the-art waste tracking system that gives you peace-of-mind and a fully traceable waste transfer through to disposal.
To find the best solution and identify cost savings, a dedicated Account Manager can visit your site and produce a full audit of your clinical waste disposal requirements. Once the clinical waste streams have been identified, we:
Provide high quality containers suited to each waste type and quantity produced.
Set up a schedule for the collection of waste that your business produces.
Provide a detailed list of the waste collected.
Select boast a modern, fuel-efficient fleet of dedicated vehicles that have been purpose-built for transporting clinical waste. All vehicles feature sealed compartments that keep the clinical waste completely separate from clean containers and sacks. Each vehicle also benefits from the latest satellite tracking and communications technology.
popular containers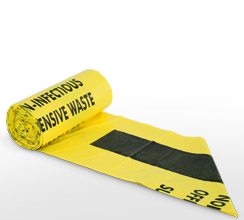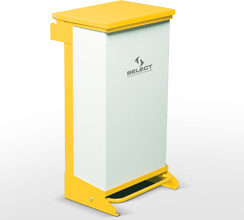 h:800mm x w:400mm x d:340mm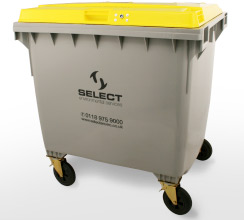 Yellow lid 1100L container
h:1295mm x w:1260mm x d:1120mm
clinical waste containers
Select offer a comprehensive range of colour-coded containers and educational material to help your organisation identify the waste and segregate it into the correct storage containers. This applies to the site both internally and externally. Internally; yellow, orange and tiger sacks are available, along with sack holders, plastic rigid one-trip units and flat-packed clinical waste cartons.
Externally; lockable, colour-coded, wheeled 360L, 660L and 1100L containers are provided. Larger external containers suitable for clinical waste disposal are also available on request.
To discuss your waste solution please call Select on 0118 975 9000